For most people, their home is the most valuable asset they own.  Our real estate market continues to be strong, and if you've been a homeowner anytime in the past 10 years, you must realize that property values change considerably.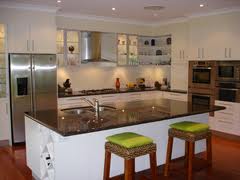 But you can do more than wait for your home to appreciate.  Take it upon yourself to increase its value.  If you have an older home, updating your property with some renovations will not only allow you to live more comfortably, but also substantially increase the value.
Speak to a real estate professional, and see what buyers are looking for in the market today.  No surprise that many are looking for homes with hardwood flooring, granite countertops, stainless steel kitchen appliances, modern lighting, etc.  Those who are looking to sell their homes will find that after doing these updates, they will usually get quicker offers and a better price.
Use your home equity to renovate your home:
Need some funds to renovate your home?  I recommend using the equity in your home to get a secured line of credit.  It remains that fact that a line of credit secured by your home will have one of the lowest interest rates for borrowing money.  It is the cheaper alternative to personal loans and credit card rates. 
The line of credit is interest only which keeps your monthly obligation low, and you can pay it off anytime without any penalties.  You may also find that since interest rates are at a historic low, you might even benefit from refinancing your existing mortgage to save some additional money.

To find out more on drawing equity from your home or any questions related to your mortgage or financing needs, call today and let us review your options! 
Nels Agerbo 604.767.9534