If you own your own home, you may be on your way to purchase your 1st Investment Property?
Most home owners' natural next step is to figure out a way to pay down their mortgages quicker. 
No one likes to be in debt, but what if your mortgage can actually help you earn a return and purchase more real estate?
As you pay down your mortgage, you build equity in your home.  This equity can be drawn out of your home. How you use it is entirely up to you.  By drawing equity from your home, you still own the home while benefiting from the
appreciation
of this property AND at the same time you can use this newly tapped
equity
to invest and earn additional income. 
When properly structured, this is a way of
using the bank's money to make money
.
By restructuring your mortgage, you may even end up with a
lower overall monthly payment
, and at the same time enjoy benefits of investing in another property.  
Use your home, to buy another property and have positive rental income!
Here's how:

For example, if your home is appraised at $1,000,000 and you currently owe a mortgage of $400,000, you can draw $250,000 of equity from your current home and use this money as a down payment to purchase a $500,000 investment property.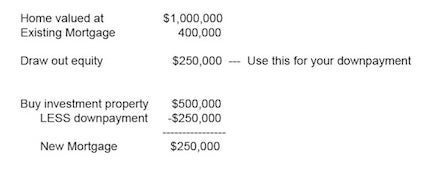 You can see from this example, that the entire purchase of the investment property is done without the buyer using any of his/her savings.  On top of that, both the equity and new mortgage can be borrowed at interest only payment loans.  Your monthly payment for both loans would be approximately $1,460 while many $500,000 investment properties potentially rent for $1,700 - $2200.
This means that you would enjoy the benefit of a second property appreciating in value plus a
monthly positive cash flow
from this new self-sustaining investment property.
What type of Mortgage should I get for my investment property?

For those investors looking to purchase an investment property, you should look into getting either a variable "open" mortgage or a home secured line of credit.  Both of these options do not have any penalties for paying off the loan early or selling the property at any time.  This is especially important for investors because many times they will not know how long they will be keeping the property.  A good offer may come along, and you do not want to miss out on selling the property because of your mortgage terms.  Even though you run the risk of short term increases in the interest rate, majority of the time, the high cost of penalties means you do not want to take the chance and lock-in your mortgage.
Use your Home to secure a Line of Credit
This is another common question?  Many lenders and banks often offer to set you up with a line of credit, secured by your home.  However many people hesitate because they do not fully understand the benefits of doing so.  There could be several objections from homeowners:  they don't want to pay the one time legal fee to set it up; they may not need a large line of credit at this time; or they don't want any additional charges on their home.
We always recommend to get a secured line of credit.
It remains fact that a line of credit secured by your home will have
one of the lowest interest rates
for borrowing money.  It is the cheaper alternative to car loans and credit card rates.  By consolidating all your debt into the line of credit, you may see significant interest savings.
Though you may have to pay a one time legal fee to set up the facility, there are no monthly fees or ongoing costs if you do not use the line of credit.  You are only obligated to pay the interest on the portion of funds you borrow.  And if you ever need emergency funds, or you need to act fast to purchase a large ticket item, the secured line of credit will be there as a safety net.
To find out more on drawing equity from your home or anything else related to your mortgage or financing needs, contact us today and let us review your options for you!
Call today so we can set you on your way to creating your Real Estate Wealth!  Nels Agerbo
604.767.9534
* All examples are based on hypothetical situations and in no way represent any guarantee.  Numbers and rates are subject to change; loans are subject to approval